Farm City Studio
I created Farm City Studio in the 2000's when I was getting creative with mosaic artworks, but this site was always intended for more.  I am pleased to say that some of the pages I created are still reflective of my thoughts, which is the real reason we blog, isn't it?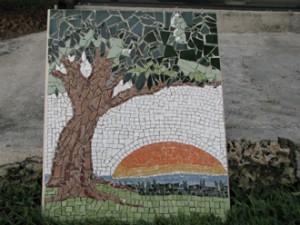 I made the Tree mosaic in the photo as a donation for Florida Chapter ISA Trees Florida Conference.  They have a silent auction and the Executive Director ended up taking this back to the office.  I wonder if it's still part of the Florida ISA office? Must remember to ask Lori when I talk with her.
So, this journey is ongoing and I'm committed to enjoying it. Hope you will, as well!
December Lauretano-Haines